WHEN RURAL NEWSPAPERS FALL PREY TO PREDATORY OWNERSHIP, LOCAL CONTENT GOES FAST: NEWS RESEARCH
By: GREGORY FURGALA
Staff Reporter
Panellists at "Media ownership and concentration: The impact on local journalism" discussed their research into the effects of regional concentration. Watch the full session here.
Small market newspapers are being stripped of local content by "predatory" chain ownership groups, a new study suggests.
John Miller, a professor emeritus at the Ryerson School of Journalism, compared local content in the Northumberland Today, the daily newspaper published in Cobourg, Ont., with local news published by its predecessors. The Cobourg Daily Star and the Port Hope Evening Guide amalgamated with the weekly Colborne Chronicle in 2009 to form Northumberland Today.
Since the merger, the amount of local content featured has sharply declined, Miller concluded. His quantitative analysis shows that widely-circulated syndicated material with little relevance to Port Hope or the surrounding area has replaced locally-relevant coverage, and the audience noticed: Northumberland Today, which now only reaches 2,600 people daily, is losing 500 readers every year.
Northumberland Today is now owned by Postmedia, whose primary aim, Miller says, is to extract revenue from its newspapers rather than support good journalism.
"We have to invent a word for that kind of ownership," Miller said during his presentation at a recent conference on the future of local news. "Gnawing-off-their-own-limbs chain ownership might be more appropriate."
With the exception of a $17.8 million profit in the first quarter of 2017, which was largely the result of one-off debt restructuring last October, Postmedia has long been losing money, primarily due to a high debt load and declines in print circulation and print ad revenue. During that time, its journalists and editors have been offered voluntary buyouts, faced layoffs, and been merged with other newsrooms.
Miller, Marc Edge, a professor at both Canada West University and the University of Malta, and Adam Szynol, an assistant professor at the University of Wrocław in Poland, discussed the concentration of media ownership on a panel moderated by Ryerson School of Journalism associate chair Ann Rauhala. The session was presented as part of Is no local news bad news? The future of local journalism, a conference held June 3-4 at Ryerson University in Toronto.
Syndicated material now makes up 75 per cent of Northumberland Today, Miller said, while Port Hope-focused content has fallen to six per cent from 41 per cent in 2008. Area news, which includes news about surrounding communities, has also declined, he said, albeit not as much.
"It leads me to believe it's not a local paper anymore," says Miller.
Instead of focusing on hiring good reporters and supporting local newspapers, Miller said Postmedia is extracting money from them, leaving editors at local newspapers with too few resources to commit to community-focused work. Even the opinion pages—essentially free, local content—have gone from three or four pieces per day 20 years ago, to none today because people aren't invited to write in, he says.
"[The editor] seemed to be willing to print letters to the editor," says Miller, "But the newspaper has lost its engagement with the public."
Publishers, says Miller, are crucial to building and maintaining relationships with the community.
Nonetheless, he noted, several publishers, including at Northumberland Today. have been cut by Postmedia and replaced with regional managers.
Despite the dire headlines, Edge argued that Postmedia's financial troubles have been greatly exaggerated.
The company's $352-million loss last year, for example, includes a $267 million writedown—a devaluation of its assets—which Edge says is only a loss on paper. On an operating basis—the day-to-day costs and revenue of the business, without all the debt—Postmedia reported an $82 million profit. In a study of publicly-traded newspaper owners going back to 2006, Edge found that on an operating basis, none had declared an annual loss.
"The myth of newspaper poverty is alive and well," says Edge. "Perhaps more so than ever."
He said newspaper owners have been happy to leverage the hard-times myth for regulatory leniency. In British Columbia, he said, the Competition Bureau, the federal agency tasked with investigating anti-competitive behaviour, has been "derelict in its duty." Since 2010, Glacier Media and the Black Press, which collectively publish nearly 150 community newspapers in B.C., have bought, sold and traded newspapers, and then proceeded to close 20 of them after they changed hands. One 2014 exchange included a total of 15 newspapers, Edge noted, of which more than half have closed. Their dealings, he said, have created regional monopolies in B.C.
"This is classic anti-competitive behaviour," Edge said. "Buy your competition, close it. This is clearly tit for tat, quid-pro-quo stuff, and yet the Competition Bureau does nothing."
The multiple newspaper closures, he said, mask the financial reality that Glacier Media and Black Press are both doing well.
Until the 2008 recession, Glacier, which is publicly traded, enjoyed 20 per cent-plus profit margins, says Edge. That fell to between 15 and 20 per cent in subsequent years. The average profit margin for a Fortune 500 company, he reminded the audience, is 4.7 per cent. Glacier's most recent financial statement reported a 15 per cent profit margin.
"The newspapers they've been closing have died not so much as a result of natural causes," says Edge, "But as a result of premeditated murder."
Although Black Press is a private company, Torstar, which is public, owns a 20 per cent stake. From that, Edge estimates that Black Press is profitable.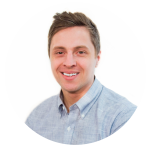 Gregory Furgala
@gregfurgala

Greg Furgala is a master's candidate at the Ryerson School of Journalism.